"ALL FOOD THAT'S FIT TO EAT"™
NEEM PROJECTS – operates UBPC Organoponico NEEM on an 11.2 acre Farm Services Agency registered Urban Farm in Durham, North Carolina. The farm is 10.2 and .97 acres in SE Durham,  & NECD. NEEM Projects in the community are: Full Gospel Community Garden – YE Smith School Garden classroom – WG Pearson Middle School Garden classroom – Holton School Garden classroom – Forest View School Garden classroom – Eastway School Garden classroom – Fayetteville School Garden classroom – Canal Street Community Garden – Durham Economic Resource Center Garden – Glen School vertical garden classroom – Lowes Grove School Garden classroom – Rolls Florist farm – 58 Individual home raised beds  – South-side School garden classroom Save Our Sheep – YIKES – Forest Foundation – Morehead Hill – Orchard Park Community Garden (first in a NC park, inspiration to BCBS NC for 100 park gardens) – SE Durham Summer of service program – 11 Community Gardens. A total of 190 raised beds not including Organoponico NEEM (the farm). We are about 100% Sustainable Production and DURHAM: food, businesses, Universities and organizations. We support other organizationsprojects in other cities, States and Countries with the same local focus. We are cutting edge, make a difference and proud of that.

NEEM does not run a project after start up. They belong to the community. We obtain funding and provide design, implementation & support using Agroecological concepts with sustainable materials. The client Community, organization or, city/school/State entities take over in utilizing these for their intended purpose. We do what we do best, build "Bottom Up" community, establish the garden, get it done efficiently and move to the next project. The community maintains the gift made. Organoponico NEEM (the farm) is the exception.

We are in Durhams low income neighborhoods where help is needed most. We sell organic food at conventional prices into the community where it is grown. Education, Health Food Insecurity and desert issues are addressed. Fresh healthy food will reduce early on-set diabetes and obesity; rampant where we work. Property and tax values increase, beautification occurs, crime goes down and the immediate community becomes more sustainable.
That is win-win. "a family cooking or breaking bread together; is a family together". JAE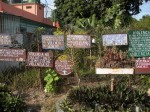 NEEM – CUBA Programs – We have been involved for a very long time on a State, Federal and International level in Cuba and Washington working on improving relations in a sustainable way. We began taking groups as a part of our foreign exchange component tied directly to NEEMs replication of the Cuban model in Agroecology. NEEM was awarded the OFAC "People to People" exchange license allowing citizens to travel legally with NEEM to Cuba. What an unplanned honor. That resulted in a relationship with Global Exchange. We are also partners with the Association of Agricultural and Forestry Technicians (ACTAF). Dr. Funes leads in this field through ACTAF and is our friend. We are very proud to walk with and beside Fernando. We feel as we should in harmony – Argoecologically. What purpose do the groups serve? First and foremost they bring our respective countries closer together sustainably through  dialectic exchange that occurs in freedom to travel. They bring to the delegate the truth and the knowledge exchange; and they also bring residual income or, financial independence to  NEEM. Organoponoico NEEM is a closed loop off the grid farm. The delegations diversify NEEM and take the organization off the financial grid. Again, when you  give, you get back. 
" Seed to Plate – A Wandering Feast™ "
Eco Pueblos – in Sacaba, Cochabamba Bolivia, Cuba and Organoponico NEEM in Durham. Self reliant, sufficient off grid closed loop environmental systems for sustainable community development.
CHEFS MOVE TO SCHOOLS
"Above All Make it Simple"
Chefs Move to Schools is a program, run through the U.S. Department of Agriculture, that will pair chefs with interested schools in their communities so together they can create healthy meals that meet the schools' dietary guidelines and budgets, while teaching young people about nutrition and making balanced and healthy choices.Let's Move is the First lady's initiative to combat obesity and ensure good nutrition for our kids. Chefs Move to Schools is a part of Michele Obama's initiative.
Durham Public School System is on the list system wide. A school does not have to have a garden to participate. NEEM is working on that, and on integrating this program with existing School Garden Classroom programs.
Durham to sign on to the Chefs Move to Schools initiative because chefs are educators and want to share their knowledge with their community. Kids today are your patrons tomorrow.
Chefs go to this link to sign up:
http://healthymeals.nal.usda.gov/schoolmeals/Chef/ChefsForm.php
Go to this link to find a participating chef or school:
http://healthymeals.nal.usda.gov/schoolmeals/Chef/ChefsMap.php
A Wandering Feast and I as chef have adopted the Y.E. Smith Elementary School.
If you are a chef, don't just think about it, do it. This is truly serving the community.
If you are not a chef, share this information with your favorite restaurant and its chef in Durham.
To request permission to use any material from this site submit your request via e-mail to the Copyright Clearance Center Inc. at www.copyright.com cc neem@neemtree.org. Intellectual property of the corporation, it's marks, licenses and documents is fully protected by copyright and trademark law, licensed and fully enforced by our intellectual property law firm.™