MONKEY ISLAND, INC, Eco-Historic preservation
Currituck & Corolla, NC
NEEM™ is a NatGeo, Kodak & Golden Leaf national award winning FSA USDA "cause related" non-profit organization in Agroecology, environment, Agro development and founder of the Monkey Island organization (MI) a 501 C 3
Contributions to save Monkey Island may be made below. Negotiation by NEEM is active to Eco-historically preserve Monkey Island as a public marine biology environmental research facility, Eco retreat & wild life refuge under agroecological philosophies. A self sustaining AgroEco, aquaculture, historic preservation, conservation and local socioeconomic stimulus project in Currituck sound North Carolina.

Donate any amount or match the initial $5K pledge
Monkey Island is a remote, natural island located in Currituck Sound, North Carolina and is part of the Currituck National Wildlife Refuge. It is named for the Pamunkey nation that once inhabited the area, and used the island for summer hunting.
"The island was also once the site of the Monkey Island Hunting Club, which remains and must be preserved. The Monkey Island Hunting Club was incorporated in 1919 by tobacco executives including George Hill, president of the American Tobacco Company and its Executive Vice-president Charles Penn. It was sold in 1974 and after a series of failed endeavors came into the possession of US Fish & Wildlife Service in a sale from the Conservation Fund. Approximately half of the island is forested, the most northerly known native habitat of the Sabal minor palmand and has long supported a large colony of wading birds. The rookery, a part of the islands history will be maintained and preserved. In the early 70's we traveled to Monkey Island with Senator Charles Penn's family and enjoyed its rustic magnificence. The rich and famous like the caretaker and others had a passion for the place. All you had to do was go there to understand why they did.
The old duck hunting lodge, caretaker house, boathouse/dock, windward facing barrier were North Carolina style architecturally similar to but intentionally more rustic than the plethora of lodges that were in the Currituck & Corolla area. The boat ride across Currituck sound from Monkey Island (almost parallel to Corova, north of Corolla light) to the outer banks was about a mile. It was a bit of a walk from the sound side to undeveloped unspoiled habitat and Outer banks ocean beaches; a North Carolina paradise. The sound side, the Banks including Monkey Island are part of the Currituck National Wildlife Refuge. (Development cannot occur within the refuge). The island faces one of the outer banks tallest sand dunes, all of it incredible, pristine and marine nature at its best; untarnished. It remains that way today and will in perpetuity.
We do not seek to change that "refuge" status. The organizations goal is to Eco-Historically preserve the structures, reinstate the islands barrier, dock and shoreline if possible to their original state, maintain the bird sanctuary, bring North Carolina history ecologically back to the island, and protect cultivars indigenous to the island. Monkey Island organization will be a self sustaining diverse project. The island will be active as it once was operating under strict Agroecological and environmental guidelines with USFW, Currituck National Wildlife Refuge and community. In return for the enormous public private financial commitment required to preserve Monkey Island the organization would seek to operate the island to the benefit of the county and North Carolina as a environmental research facility, Eco lodge, Knowledge exchange, marine research and education center. Monkey Island will be productive and self reliant through diverse methods including research, climate research and sound environmental monitoring, sustainable fishery and sustainable production. While focus will be the academic and scientific community Monkey Island will be available to all interested in this revitalized Eco retreat. A project that gives to the local community while preserving State history.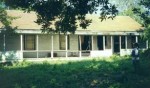 Monkey Island is in serious disrepair with no maintenance performed for a long time that is required to protect any waterfront property. The time is now to begin what must be saved or it and its history will be lost. NEEM is a North Carolina organization that preserves, protects and creates self sustaining, ecological multinational projects. We operate with our partners through public private fund resources. Monkey Island, Inc. will be a self sustaining project with some grant applications but like NEEM will not to be grant dependent.
NEEM does and the Monkey Island Organization will build the bottom up community then attain the top down support required to restore and maintain long term, Monkey Island as North Carolina history in Currituck. The organization and NEEM have the public private relationships/resources in place that will on agreement with the United States Department of Fish and Wildlife and Currituck National Wildlife Refuge allow us to implement them and save the island.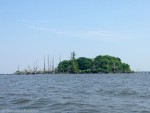 We are excited about historically preserving and saving Monkey Island while effecting positive environmental change. In the process we also address socioeconomic dynamics in Currituck County in the form of jobs, Eco tourism, green education and sustainable production; both on the island, in the water and on the mainland sound-side.
Monkey Island, Inc.is a 501 C 3 with the Secretary of State
Web: www.monkeyisland.org
GNIS Report for: Monkey Island
ID:
1002473
Name:
Monkey Island
Class:
Island

Citation:
U.S. Geological Survey. Geographic Names Post Phase I Map Revisions. Various editions. 01-Jan-2000.
Entry Date:
01-Jan-1989
*Elevation:
0/0
*Elevations in feet/meters from the National Elevation Dataset
Counties
Sequence
County
Code
State
Code
Country
1
Currituck
053
North Carolina
37
US
Coordinates (One point per USGS topographic map containing the feature, NAD83)
Sequence
Latitude(DEC)
Longitude(DEC)
Latitude(DMS)
Longitude(DMS)
Map Name
1
36.4048798
-75.8710309
362418N
0755216W
Corolla