"ALL FOOD THAT'S FIT TO EAT"
™
NEEM Agroecology project in Kosodo village, central Kamagambo in Rongo district Nyanza province Kenya through Caleb Omolo and the HERA Women Group NEEM Project  Kosodo Village Kenya – 2009 
Caleb Omolo, a Philadelphia native, dissolved his assets in the United States and moved back to his village in Kosodo, Kenya. Caleb contacted NEEM and contracted negotiations with the HERA Women Group to establish an Urban Garden System and Neem capability, for Sustainable Agriculture and malaria. The goal? To provide Food Security and production capability for neem oil to fight Malaria and Dengue. NEEM will work with its partners here and ICIPE in Kenya. Elise Pinners, a world class environmentalist from Holland runs a vetifer grass project in the village and is a partner. Rodale Institute operates in Africa and also active in the village and coalition with various groups in a cooperative effort.
The collaboration promotes sustainable approaches to the long term fight against hunger and malaria while establishing sustainable economies and agricultural alternatives. CALEB/NEEM/HERA promotes self-reliance and additional supply lines of Neem. The HERA Women Group established a cooperative to manage the tasks of men in the village that have died from HIV/AIDS so that those duties once performed are distributed to this group. We herald these remarkable women who have taken on the responsibilities once delegated to the men. Think of it for a moment. Consider what and more importantly WHY they have had to undertake this cooperative. We at NEEM applaud these brave individuals and their organization and will work to bring a sense of self-reliance and increased safety to the village through support of the Neem Project there.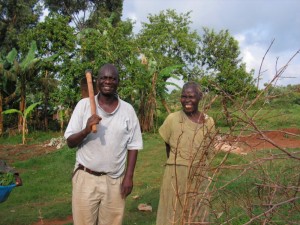 "Caleb and I have suffered some set backs. First there was a civil war and political unrest that prevented anything from happening for a year. We maintained contact, intent to wait that out. We did and then the market in the U.S. crashed right when NEEM took on its new facility. We kept working and focus area changed but its Africa, that is how it works."
NEEM sent a Duke foreign exchange student to Kenya. He assisted in NEEM related projects but in reality became a member of the community.
Interns from Switzerland and Paris France have followed. In Africa in general you must have one tenacious spirit, on the ground, dedicated, respected with that special energy that is magnetic. Caleb Omolo is just that.
We are always looking for volunteers for Kosodo. Free lodging, food grown in the village, great people – an experience that you cannot buy for the cost of getting there.
——
NEEM is a not-for-profit activist corporation with methods of operation that have the purpose of affecting public/private sector policies that impact human health, the environment, community and sustainability through promotion and education of effective, naturally occurring biological alternatives.
To request permission to use any material from this site submit your request via e-mail to the Copyright Clearance Center Inc. at www.copyright.com cc neem@neemtree.org. Intellectual property of the corporation, it's marks, licenses and documents is fully protected by copyright and trademark law, licensed and fully enforced by our intellectual property law firm.™